DERT:06
"The Original Northern Sole"
York - 17th-19th March 2006
by Jill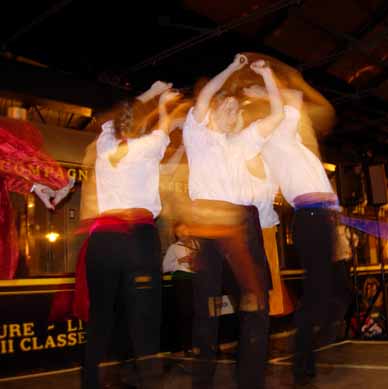 Mabel's evening "exhibition" dance.
Dancing England Rapper Tournament (Dert) was held in the medieval walled city of York earlier this year. It is an ideal spot to hold the competition as it has a wealth of pubs and eating establishments. The competition was hosted by previous Dert winners, Black Swan, who were disappointed that they couldn't compete to take the Tyzack Shield for the 5th consecutive year! Altogether, 23 rapper teams participated, including 3 teams, who flew over for the weekend, from Boston, U.S.A.
Accommodation was arranged at the Backpackers' Hostel and York Youth Hotel. I stayed in the Backpackers' Hostel which was complete with its own cellar bar. It made it so convenient for late night sessions!
Friday night was spent catching up with old friends after attending a meeting of the Sword Dance Union. We registered at the Brewery & the first tasting of the Double Tumbler beer, especially brewed for the occasion, was partaken.
The competition took place during Saturday, starting with a warm-up pub and then 4 competition pubs. The judges stayed at each of the competition pubs so, generally, there was plenty of time for them to enter their marks and add their comments before the next tour arrived. Because the pubs were so close, there was even time to have a lunch break as well. Altogether 55 pubs had been identified as dancing venues, 13 of which were competition pubs. All 5 pubs that we danced in had decent wooden floors and enough room to dance without too much furniture moving!
We toured with Valknut, a team of young rapper dancers that is so good to see on the scene these days; Triskele Sword, fine dancers and good friends and Beside the Point, a highly inventive and innovative young team from the US Occasionally we stayed later or arrived earlier to watch one of the teams on the other tours but, generally, the only time we saw the other teams dance was at the evening display.
The whole day seemed so much more relaxed than on previous years. We even had time to take a few hours break before the evening festivities. Besides the usual prizes, there was a prize for dancing in the Most Unusual Location & most teams chose this time to hunt around. We went to Betty's Tea Rooms and discovered that the toilets were rather lovely and quite ornate so took our dance photo in there.
The evening was spent in a setting beloved by old and young boys alike: the National Railway Museum. All teams danced a display and, here, the US teams came into their own as there was enough space for them to demonstrate their spectacular tumbles. They are used to dancing in outside locations and found our pub dancing quite a squash! Black Swan, scrubbing up very well in their suits, judged the Best Display Dance.
Then came the presentation of the awards. Another innovation this year was the half-time scores displayed at the first pub spot after lunch. Whether this made some teams complacent and other teams strive harder I don't know but the final results seemed to bear no resemblance to the earlier placing! Once the prizes were awarded, we dispersed to a local pub for post-mortems, music sessions and general hilarity. Partying carried on in the Backpackers' hostel with Anglo-American relations improving hourly. A sign of the times meant that the bar was filled with a rave while more discussions and music sessions were held in the social area outside!!
On Sunday, there were a couple of dance moves taught in the Brewery. Space was a little limited. Afterwards, we retired to the Brigantes to see Phil Heaton and Aubrey O'Brien presented with their EFDSS Gold badges, by Paul Davenport, for service to rapper dancing. A tribute richly deserved and quite fitting to be held at the Dert weekend as Phil was instrumental in starting the original Dancing England in Derby. After that, fond farewells were taken and promises to meet at the next Dert, to be held in Nottingham on March 9th - 11th 2007. Put the date in your diary now!
Results
Premier:
| | |
| --- | --- |
| 1st | Sallyport |
| 2nd | Newcastle Kingsmen |
| 3rd | Stone Monkey Sword |
Open:
| | |
| --- | --- |
| 1st | Thrales Rapper |
| 2nd | Triskele Sword |
| 3rd | Mabel Gubbins |
| | |
| --- | --- |
| Tyzack Shield: | Newcastle Kingsmen |
| Best Musician: | Newcastle Kingsmen |
| Best Character: | Newcastle Kingsmen |
| Steve Marris: | Sallyport |
| Unusual Location: | Valknut, who danced in the Minster. |
Thanks must be given to Black Swan who showed they were as professional in their organisation as they are in their dancing. I just wonder how long it'll be before they can be persuaded to host it again!!
Jill Griffiths
Mabel Gubbins Rapper
June 2006
Last modified: Sat Jun 09 10:42:15 GMT Daylight Time 2012